Hi, I'm Bungerey the resident Hare at the Sweet Liberty Belle studio - Welcome to my blog!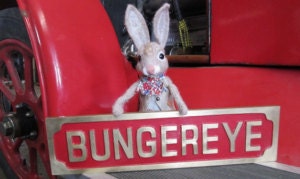 Things are mental in the studio of Sweet Liberty Belle here in Somerset, England. To-day we're getting ready to move to new premises - bigger and better with more space in which to have fun; we are working hard on the orders for the existing product range and are planning the launch of our New Kits.
These kits are really exciting; a super way for many more to experince the fun of making their own felt hearts with pictures of my friends on them.
Everything you need (except the elbow grease!) is in the box.
Wonderful hearts designed by Liberty in our studio but made by you - wow!  
Here is a link to the Spring collection of Kits https://www.etsy.com/uk/listing/508192204/bunny-needle-felt-hanging-heart-kit
Happy felting!
Bungereye